PikPokPeople – Tim
February 13, 2015
PikPokPeople is an ongoing set of profiles highlighting the awesome people that make up PikPok. This week, say hi to Tim, our IT Support Engineer, who helps keep everything running smoothly on a daily basis!

Job title: IT Support Engineer
What do you actually do:
There are two parts to my job – the first part is to make sure that everyone has what they need to do their job.  From making sure that new staff have a PC, to changing a flickering light, to making sure the servers continue to operate, anything physical is my responsibility.
The second part is developing and maintaining online services – if it isn't part of the game itself (ads for our own titles, match making, high scores) I either keep it running, or helped develop it.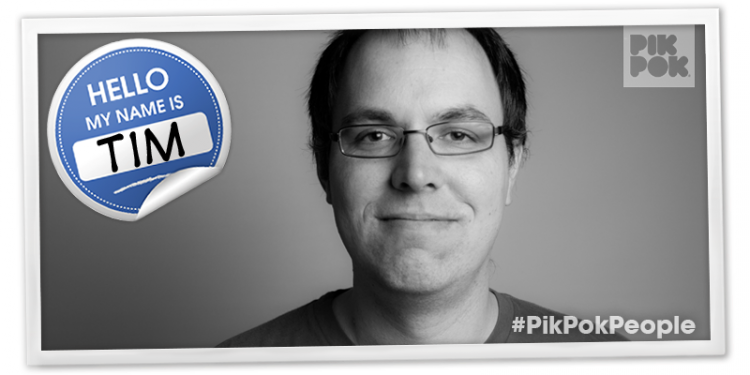 How did you end up at PikPok:
I have always had a love of programming, since the Amiga 500 I grew up with.  From High School, I studied Engineering at University, before moving to Wellington and an IT Support position.  After 7 years there, I was phoned by a recruiter. A few days later I moved to PikPok, and I was in the games industry!
Best part of working here:
It has to be the people.  We organise a lot of activities together outside of work hours – sports, food, boardgames, more food.
What does an average day entail:
First thing in the morning – before I even arrive at work – I would be checking the status of our online services, making sure they are all online and running smoothly. Once I get into the office, I will start working on anything urgent that needs attention. During the morning I will continue to work on my task backlog of general maintenance, as well as anything that comes in that needs repair work. After lunch I will switch to working on more long term project work, such as developing the online services that will be used by future titles.
What do you do for fun:
Outside of work hours I have a few more creative hobbies.  I like to bake – we managed to enter two teams in the Wellington on a Plate Bake Club last year – and I have tried my hand at handmade chocolates a few times for gifts.
I try and get out and do some photography whenever I can (see some of my shots above!), usually combining it with a few hours walking around the hills of Wellington. On Saturdays I join over a dozen of my colleagues for badminton – I think I have slightly improved over the two years I have been going. I am also currently trying to learn Japanese (not very successfully) in preparation for a trip over there in a few months time.
Can't get enough of the PikPok crew? Meet resident baker Sam or say 'Bonjour' to Loic!