PikPokPeople – Sam
February 8, 2015
PikPokPeople is an ongoing set of profiles highlighting the awesome people that make up PikPok. Meet Sam – a UI designer with a flair for games and baking!


Job Title:
Senior UI Designer
What do you actually do:
I work very closely with the team to design and wire-frame all the screens in the game – the layout and positioning of all the buttons, text and things like that. It's interesting work because we're constantly learning about how to best design screens, and things change very rapidly! I also get to work across multiple projects at once, which can make things very fast paced and sometimes hectic!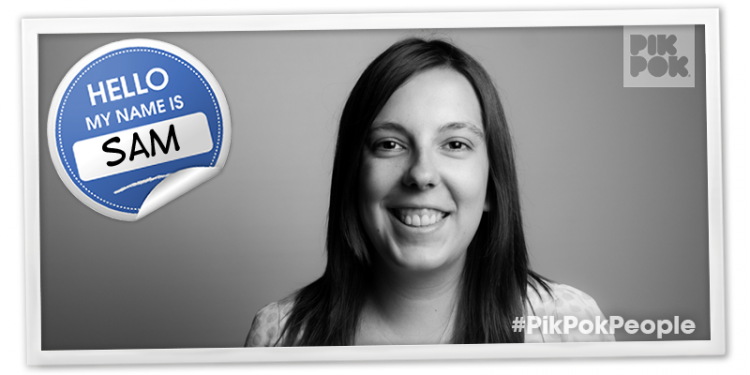 How did you start out at PikPok – did you want to work in games specifically? 
When I first started my degree, I was dead set on working in the games industry. I grew up with my Gameboy in one hand, and playing Playstation with my cousins every holidays – it was something I knew I enjoyed! I was lucky enough to meet a producer who used to work at PikPok who got me an interview, and the rest is history!
What would your average day entail?
First thing I do when I get in the office is turn on the fairy lights around my monitors (I just couldn't take them down after Christmas!), then I have project scrums in the morning, catch up on any emails, head out for 15 mins with my coffee crew (hot choc with marshmallows please), continue working on my current wire-frames, attend meetings about my current/past/future projects (sometimes all in one day!), read more emails, design more screens, attend more meetings! There's a lot of follow up work with my job, ensuring that screens are implemented and working in the game as they've been designed! Also I do a bit of uh, 'research' during the day where I'll play my latest game obsession!
Best part of working here:
The people are pretty awesome – Summer afternoons we eat ice cream in the office, and don't get me started on the foosball tournaments! Plus I guess working on games is a big bonus too!
What do you do for fun: 
Well lately I've been enjoying the sun a lot (there has been such good weather here), but I'm currently super into modern design home wares – and gift wrapping! I love wrapping presents! I went a bit crazy and bought heaps of washi tape, and whenever a friend or family member has a birthday I just can't wait to wrap their presents! So many ideas, so many pins on my Pinterest board! I'm also enjoying playing netball in the PikPok social netball team. I haven't played since I was in intermediate, but it feels good to get out there and run around on the court! Its also a great way to get to know some more people around the office that I wouldn't necessarily interact with on a day to day basis.
Tell us about your baking!
I've always loved baking, I can't cook to save my life, but baking is fun to me! I wasn't super adventurous with my baking until our latest UI designer Sarah started at work. I saw her looking at amazing cakes one lunch time and I just had to look as well! My favourite creations would have to be the two I've made for work so far – the hundreds and thousands rainbow cake and the cat cake! My birthday is coming up soon, and I've got an idea of a cake I want to try – you'll have to check back later on that!
For more from Sam, follow her on Instagram!
Can't get enough of the PikPok crew? Read up on our music man Jayde here or find out where in the world Damon is travelling to next!