Rival Stars Basketball update out now!
April 10, 2015
There's an update available in Rival Stars Basketball now – find out what's new!
Build your team!
You asked for it, and we've made it happen! That's right – Player positions are in!
Every player in Rival Stars now has a preferred position; they might be a Power Forward looking to own the backboard, or a Point Guard controlling the flow of the game. The chemistry between players is vital when looking to crush a Power Play, or dominate a Rival Clash. A strong Chemistry Bonus will increase your Hot Streaks and improve your scoring potential!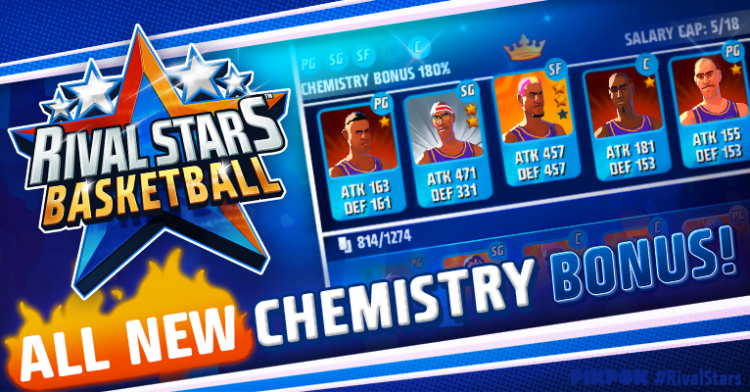 Additionally some team members work better together which can also increase your Chemistry Bonus, but we'll let you discover those combinations for yourselves!
Share your Team!
Now that you've built your dream team you can share it with your friends using our new sharing feature! We've added a new screenshot button to various screens within the game, now you can show your friends your current line-up and share your triumphs!
Recruit your friends!
Your screenshots will contain a unique Invite Code which can be used by any friends that have not yet used one.
You can also directly send your Invite Code to friends who've not yet joined the game. Anytime a new player joins the game and uses your unique code you'll earn more Gold Coins, and they'll get a token for a free Pro Pack! Your code will work up to 40 times!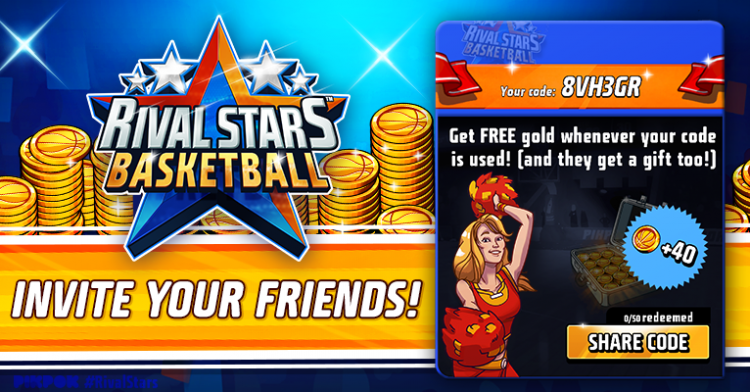 Please note: Players can only enter one Invite Code on their account. Pro Packs gifted do not guarantee Gold or Super Gold cards.
Have more questions? Check out the Rival Stars FAQ!