Fun with Four Letters!
March 30, 2015
Four Letters was the brain child of PikPok Programmer Thomas. Here he talks about how Four Letters came to be, and what it was like working on the game from conception to release!


How did you think up Four Letters?
The game idea came from a pretty random place. I'd noticed a certain graphic design appearing a lot – an X design with letters or little pictures on all sides of the X. I was seeing it on t-shirts, in adverts, on posters, and even in company logos. It seemed like an awful lot of people had decided that it was the cool design to use at the same time. I even found a Pinterest board dedicated to reporting sightings of the design! Not long after I started noticing this, it was "Lab Day" time at PikPok. We have a lab day every month that we can spend pursuing our own ideas and initiatives. I often spend mine trying to come up with simple game ideas and making prototypes, so I thought I'd dedicate one lab day to trying to turn the X pattern into some sort of game.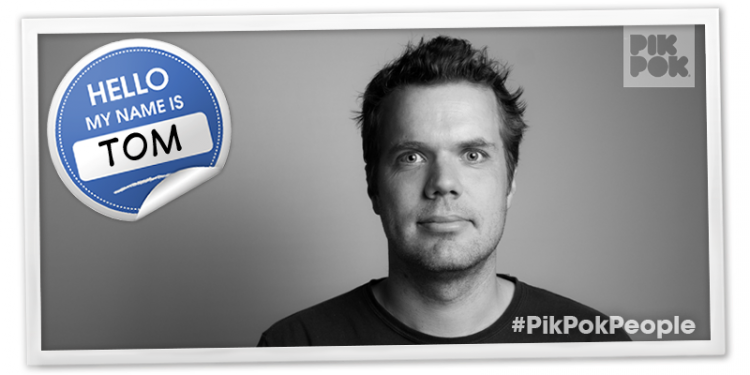 The X pattern usually has four items around it, so that's where I started – what four things would you want to press on to play the game? I wanted the game to be really simple, so I thought I'd try a simple word-search with four letters. I showed the idea to Dan (an artist here at PikPok) and asked if he'd like to make some backgrounds and visual elements to make it look like you were playing one of these X logos. He went off and created a bunch of awesome mockups with different styles, all based on modern design tropes and cliches. The game concent as a whole really just fell into place once Dan's designs were made.

How long did it take to get Four Letters from dream to reality?
The prototype took a day, and most of that was creating the word list. I figured that the word list needed to be pretty good for the game to succeed – too many obscure words and you'd think the game was cheating you, but too many easy words and you'd get bored. Implementing the game was the easy part, as I've made prototypes of this scope many times before.
The game was finally released about six weeks later – pretty speedy really! Most of that time was spent polishing and refining things that were already present in the prototype – not that much has changed gameplay-wise. Since the original prototype was so compelling, we didn't want the game to become complicated or bloated in any way, so that naturally limited the scope of the project and kept the development process short and speedy.
What's been the coolest part of the process?
Seeing the game on the store, and seeing all the reactions from people all over the world has been pretty incredible. I'm very happy that PikPok decided to green-light the game, as it's been an awesome opportunity to see something I was heavily involved in the creation of being played by so many people. I've also learned a lot of new words in the process, which is handy.
What's your high score?
243 – probably not in the top 100 anymore 🙁
Think PikPok seems like a fun place to work? We're hiring!
Haven't played Four Letters yet? What are you waiting for – play now!