PikPokPeople – Andy
March 2, 2015
PikPokPeople is an ongoing set of profiles highlighting the awesome people that make up PikPok. This week meet Andy, our Localisation Manager, who joined us all the way from London!


Job title:
Localisation Manager
What do you actually do:
It's a job of two parts mainly.  A big chunk of my work is managing all the localisation needs of the various products here at PikPok.  That can range from organizing translations of the text in a game, to checking that jokes or other content in games (which are great fun for the folks in the office) aren't somehow offensive to people elsewhere in the world.
On top of that I'll often serve as producer or product manager on a game or two.  The Maze Runner Game has been my latest baby, and seeing such a huge community build up around that game has made me shucking proud!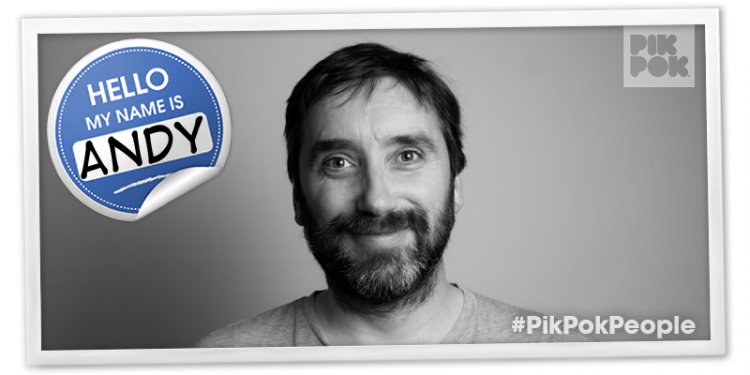 How did you end up at PikPok:
I've been in the games industry since the late 1990s, lucky enough to work on some classic games along the way.  My wife and I grew weary of the hustle and bustle of London life and were looking to move overseas, so I speculatively sent my CV to PikPok as we were due to be visiting New Zealand anyway. They offered to create a new role especially suited to my experience!
Best part of working here:
Being paid to learn rude words in lots of languages.
What would your average day entail?
Every day is different for me as I've a finger in so many pies.  There can be three or four projects fighting for my time at once, so a lot of juggling is needed to keep everyone moving along.  But every day typically breaks down into some combination of lots of emails, lots of meetings and lots of copying and pasting stuff around various spreadsheets.  So much copying and pasting that the paint has worn off the ctrl key on my keyboard!
What do you do for fun:
Besides gaming, football is my main passion.  I'm a lifelong fan of Liverpool FC, where going to the match was a huge part of my growing up in Liverpool which carried through until I left the country for New Zealand pretty much.  The time difference sucks for watching matches down here but you've got to make the effort, though getting up at 4am on a Sunday morning will test anyone's commitment. Liverpool are playing a couple of pre-season matches in Australia this year so I'll be over there getting a rare fix while I can.  Brace yourselves Brisbane and Adelaide, Scousers are coming.
Get to know more of the PikPok crew – Damon loves sports and travel, while Tim is a computer and kitchen wizard!
Think you'd like to be one of our PikPokPeople? We're hiring!