Coach's Training Session: Captains and Captain Skills
June 9, 2014
Alright team, listen up!
You've played well, but this is the International Cup, and I need you to put in the hard yards if we expect to win! We need a strong team! A strong team needs an even stronger leader! We need a Captain! Someone to lead from the front. A man to motivate and drive us to victory!
Your Captain is a natural leader with a unique Captain Skill that will give a performance bonus to the entire team!
This new Captain can be easily identified by the gold captain badge

 above his card.
Just as with Player Skills there are 3 tiers for each Captain Skill. Higher tiers give a better bonuses to the team for that skill.

 Bronze Captain Skill  

 Silver Captain Skill  

 Gold Captain Skill
On the front of each Captain's card you can see his current skill levels, including the level of his Captain Skill, and on the reverse of his card you can see what his particular Captain Skill is.
In this case, our acting Captain Felipe has the Power Leader skill that grants a bonus to kicking power for all members of the team. As this skill levels up that bonus will increase, further improving the whole team!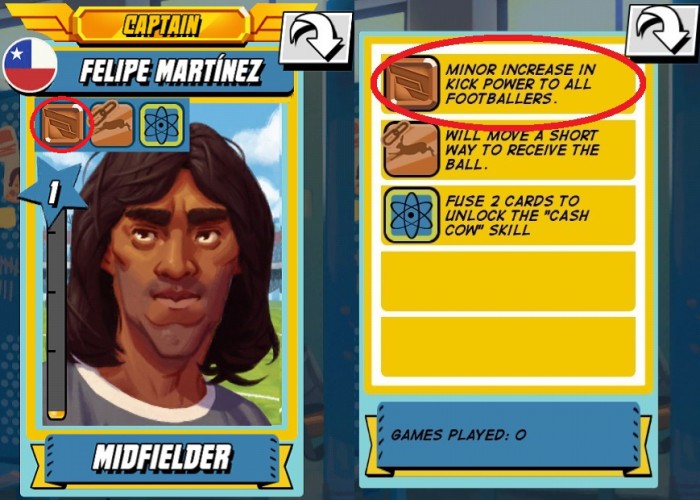 Every Captain has a unique Captain Skill that provides a powerful perk to the team.
Captain Skills:

Power Leader – Increase Kick Power to all team members.
Haste – All team members will move a greater distance to receive ball.
Bend It – Increase the Kick Curve to all team members.
Patience – Grants more time to team members when kicking and passing.
Sage – XP Boost to entire team.
Intimidation – Chance to reduce opposition offensive ability.
Pressure Cooker – Chance to reduce opposition defensive ability.
Rush – More shots at goal in less passing attempts.
Turtle – Opposition has reduced goal attempts.
High Score – Increase Infinity Cup score multiplier.
Investments – Increase to match rewards.
Portfolio – Increase to Division rewards.
Super Stamina – Increase Stamina recharge rate.
So Lucky – Increase chances of winning an after match event.
Big Goal – Increase size of opposition goal.
To the Death – Final whistle won't blow until ball goes dead.
Stone Wall – Team members are not able to be injured.
So welcome your new captain! With his leadership and he will help lead us to VICTORY! Remember that with every win we are one step closer to becoming LEGENDS!
Haven't got the update? Get it now!
More questions? Check out the Official FAQ!
Author: Chris Brown