Chili Con Carnage
August 6, 2014
The weather is turning here in Wellington, so to warm up the office we decided to have a chili growing competition. Nothing gets the crew more heated than the chance to compete for prizes and glory, and 28 potential chili champs stepped up to show off their green thumbs.

It wouldn't be a PikPok challenge if people didn't take it seriously, and as the competition heated up the competitors took it to a whole new level. Showing that the team are just as skilled at making things in reality as they are at making games, there were expertly crafted chili enclosures planted around the office in no time.
This months challenge was for the best decorated plants, and as you can see the crew went all out!
While all of the plants are looking bright and beautiful, there could only be one winner.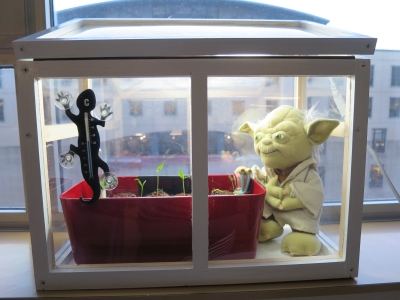 This marvel of modern design belongs to Senior Artist Petr, and was voted the champion by the rest of the office!
We'll check in on the chili growing progress over the coming months, and keep you updated on the winners of the monthly challenges. Next time – the prettiest and the saddest plants will battle it out for victory!
Author: Ashleigh