Agent Intercept™ Releases Today on Consoles
March 31, 2022
WELLINGTON, NZ – Agent Intercept, the over-the-top arcade action game with a transforming spy vehicle from developer PikPok, is now available on Nintendo Switch, PlayStation 5, PlayStation 4, Xbox Series X|S, and Xbox One.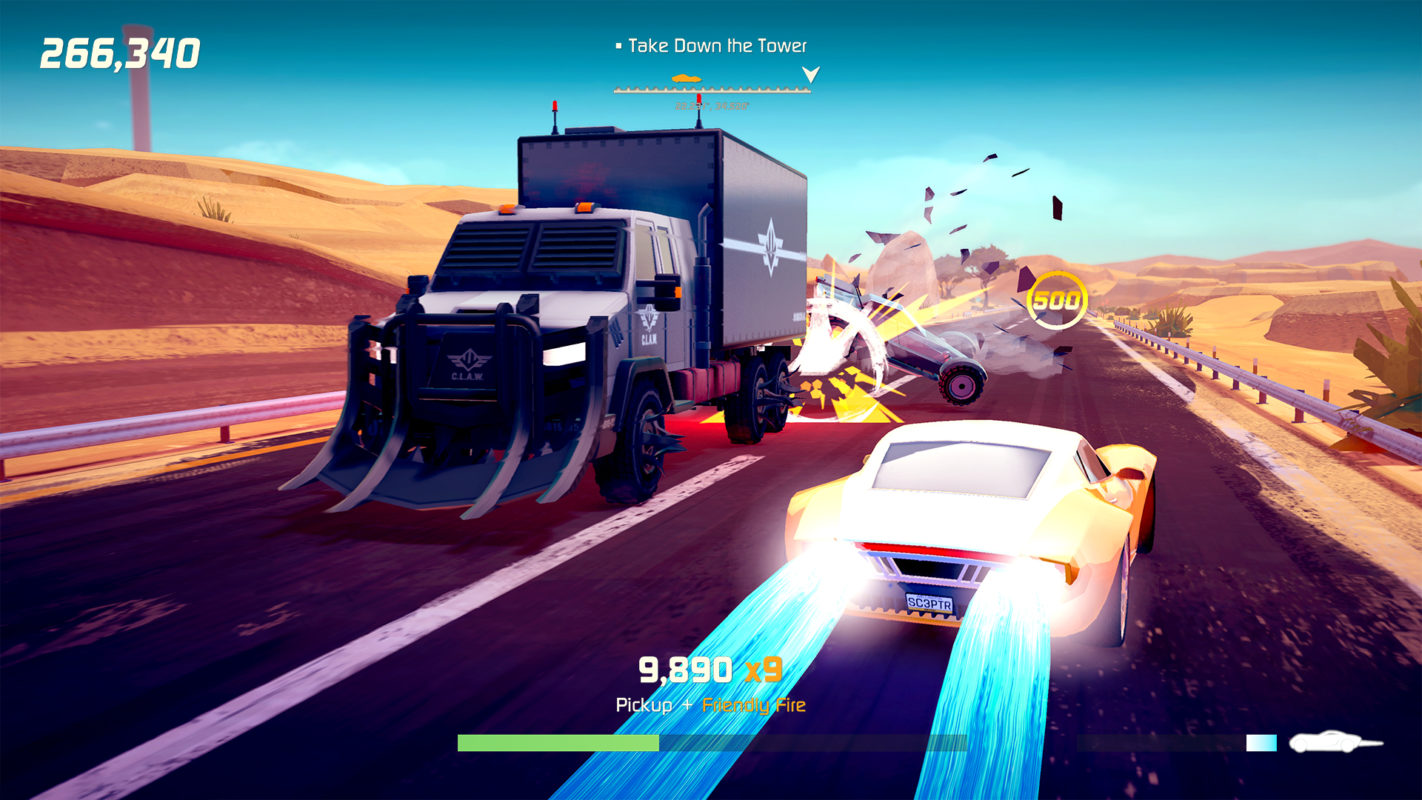 Jump behind the wheel of the Sceptre, a sleek spy car with an arsenal of high-tech weapons and the ability to instantly transform into different vehicles. Blaze across land, sea, and sky on dangerous missions to stop the nefarious organization CLAW and save the world from total destruction! Dodge enemy fire, mines, and lasers while performing over-the-top stunts and racking up points with classic arcade-inspired controls. It'll take all the Sceptre's firepower and cutting-edge technology to uncover CLAW's secret plots and stop them once and for all.
Progress through three escalating chapters in Campaign Mode, where CLAW's nefarious plans threaten the very foundations of the world itself. Complete thrilling, action-packed sequences punctuated by setpiece boss battles and uncover a story full of espionage, mysterious characters, and enough high-tech weaponry to challenge even the most seasoned spy.
Dive deeper into the life of a secret agent by completing side missions, unlocking secret experiments, and enjoying endless replayability with three Score Attack modes. Take aim in Target Practice, push the Sceptre to its limits in Time Trial, and claim the top spot on the Highscore Chase global leaderboard! With a high-energy original soundtrack and art inspired by beloved spy fiction, Agent Intercept's emphasis on action creates an experience unlike any other.
"Agent Intercept is an action-packed thrill ride that offers something completely new to the arcade action-driving genre. It has been a real passion project for the studio," said Mario Wynands, CEO, PikPok "Giving a diverse range of teams from art, narrative, and audio the opportunity to present a unique twist on the classic spy theme. We're thrilled to share that experience with players on Nintendo Switch, PlayStation consoles, and Xbox systems today!"
Agent Intercept has been optimized to provide the ultimate action experience, with 5.1 surround sound, haptic feedback, and 4k resolution (excluding Nintendo Switch) and is now available on Nintendo Switch, PlayStation 5, Xbox Series X|S, PlayStation 4, and Xbox One for US$19.99. English, Arabic, Chinese (Traditional & Simplified), Danish, Dutch, Finnish, French, German, Indonesian, Italian, Japanese, Korean, Malaysian, Norwegian, Portuguese, Russian, Spanish, Spanish (Latin America), Swedish, Thai, Turkish, Vietnamese-language support are available at launch.
The official Agent Intercept Press Kit can be downloaded here
Buy Agent Intercept today on Xbox, Nintendo Switch and PlayStation.
Media Contacts
Raymond Porreca III | O'Dell Harmon, Jr.
Stride PR for PikPok raymond@stridepr.com | o'dell@stridepr.com
About PikPok
PikPok is a Wellington, New Zealand-based video game developer and publisher of great games across mobile, tablet and desktop. With a portfolio of original, licensed, and third party developed properties, PikPok delivers games that appeal to all players with pick-up-and-play gameplay, high-quality art, and immersive audio design which provide rich game experiences. PikPok has released successful original games including Rival Stars® Horse Racing, Agent Intercept™, Into the Dead® 2, Flick Kick® Football Legends and Shatter™.