Agent Intercept: The 5.0 Update is here!
November 15, 2021
In this free update, we are excited to introduce two new features and missions!
Discover Data Cards to unlock secret intel about high-tech gadgets, the Agency's best operatives, and their fiercest enemies. Also, word has it that Agents can now access Torpere's experiments and field test some new tech. As if Torpere's current technology wasn't already crazy, wait until you see what his R&D department has cooked up, this is an absolute game-changer.
At any rate, you will need to keep your driving skills sharp as reports are coming in that CLAW is up to no good again. More details about operation Sky Hunter and Winner Takes All below.
New Feature: Torpere's Experiments
"I've been working on some exciting prototypes based on the data you've collected. Inspired by your actions in the field, I have a whole suite of inventions I can't wait for you to test!" ~ Fulton Torpere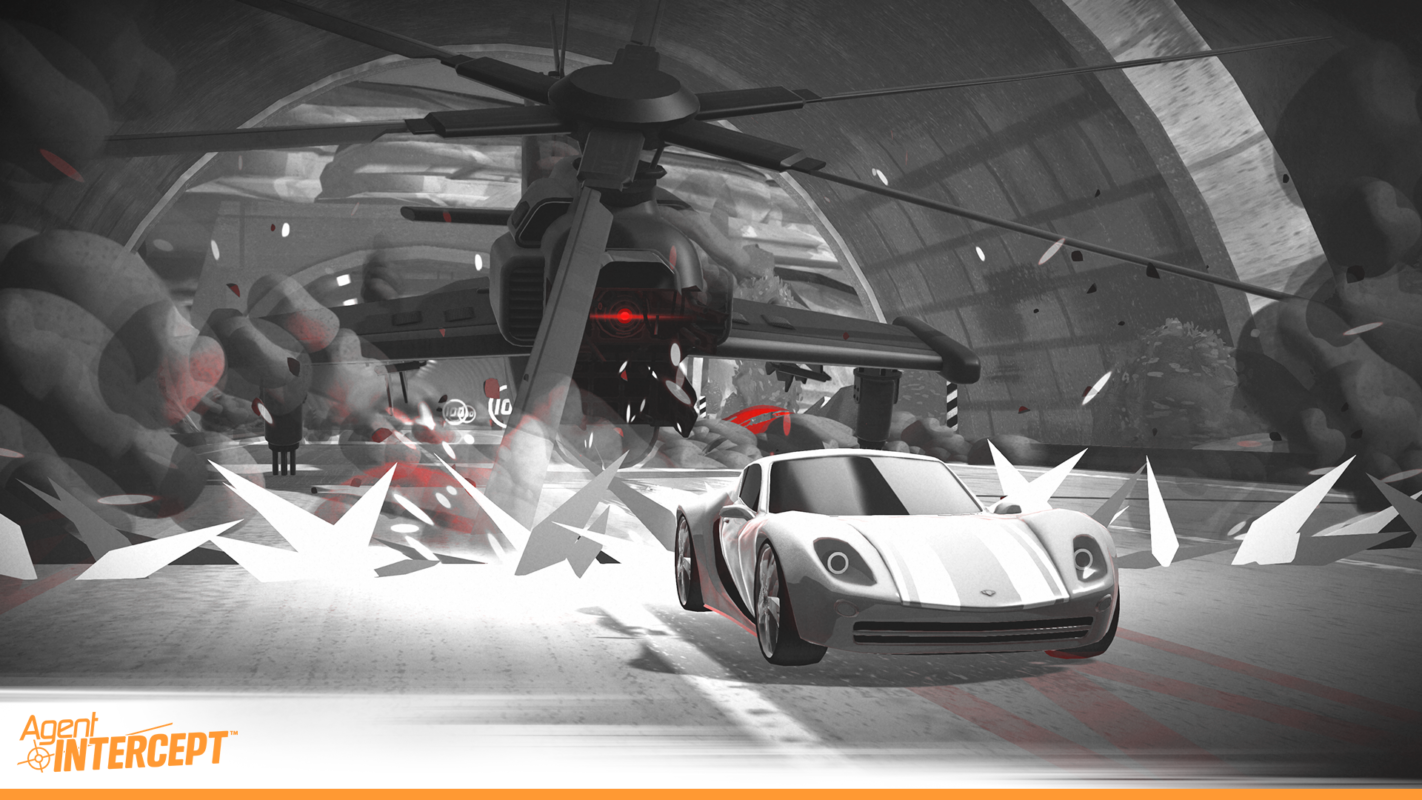 Torpere's Experiments are unlockable "cheats" that change the way you play Agent Intercept. You can unlock them by progressing through the story, completing challenges, and placing in the global leaderboards. Each of Torpere's Experiments is unique and offers a variety of customization options such as Noir Mode, First Person View (Bonnet Cam), an alternate bodykit for the Sceptre, and even access to the experimental Hoversceptre.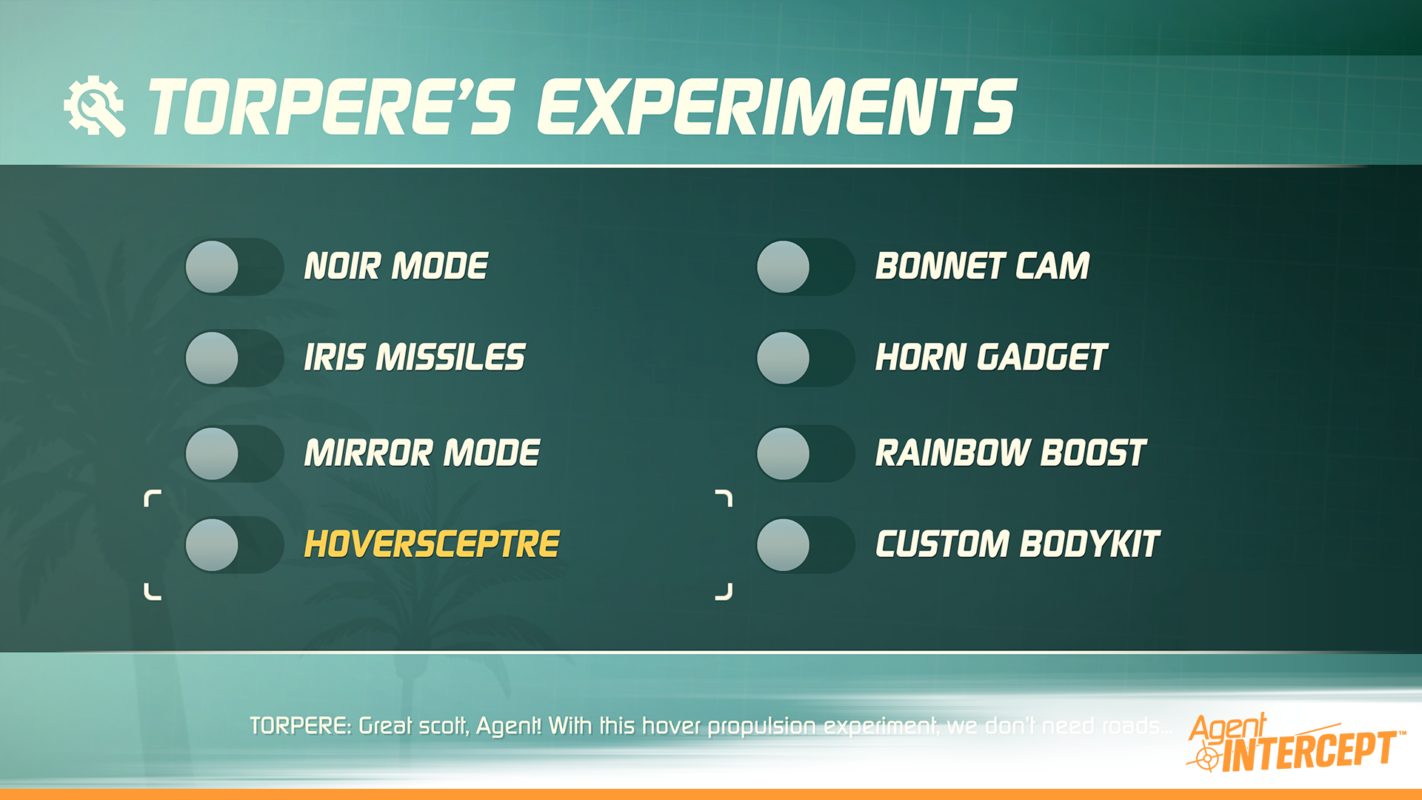 Rewards await agents willing to take risks! So push the pedal to the metal and prove yourself to be ready to field-test Torpere's Experiments!
New Feature: Data Cards.
"While saving the world is always our primary concern, each encounter with CLAW is a chance to gather or intercept new data." ~ Fulton Torpere.
Completing objectives, placing on the global leaderboard, and progressing through the story unlocks valuable intel on our opponents and field data on Agency tech. Data Cards give players the opportunity to learn more about the world of Agent Intercept and its cast of characters.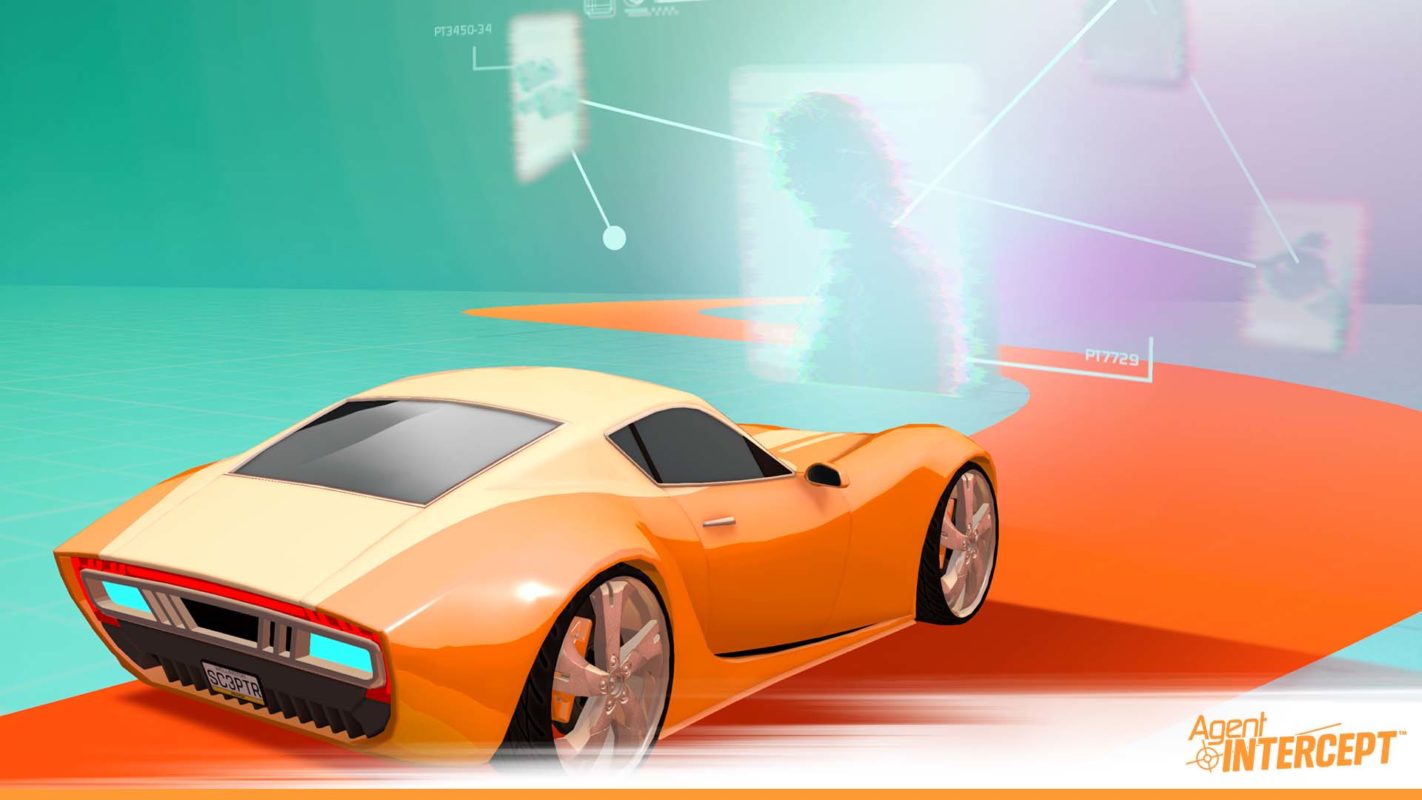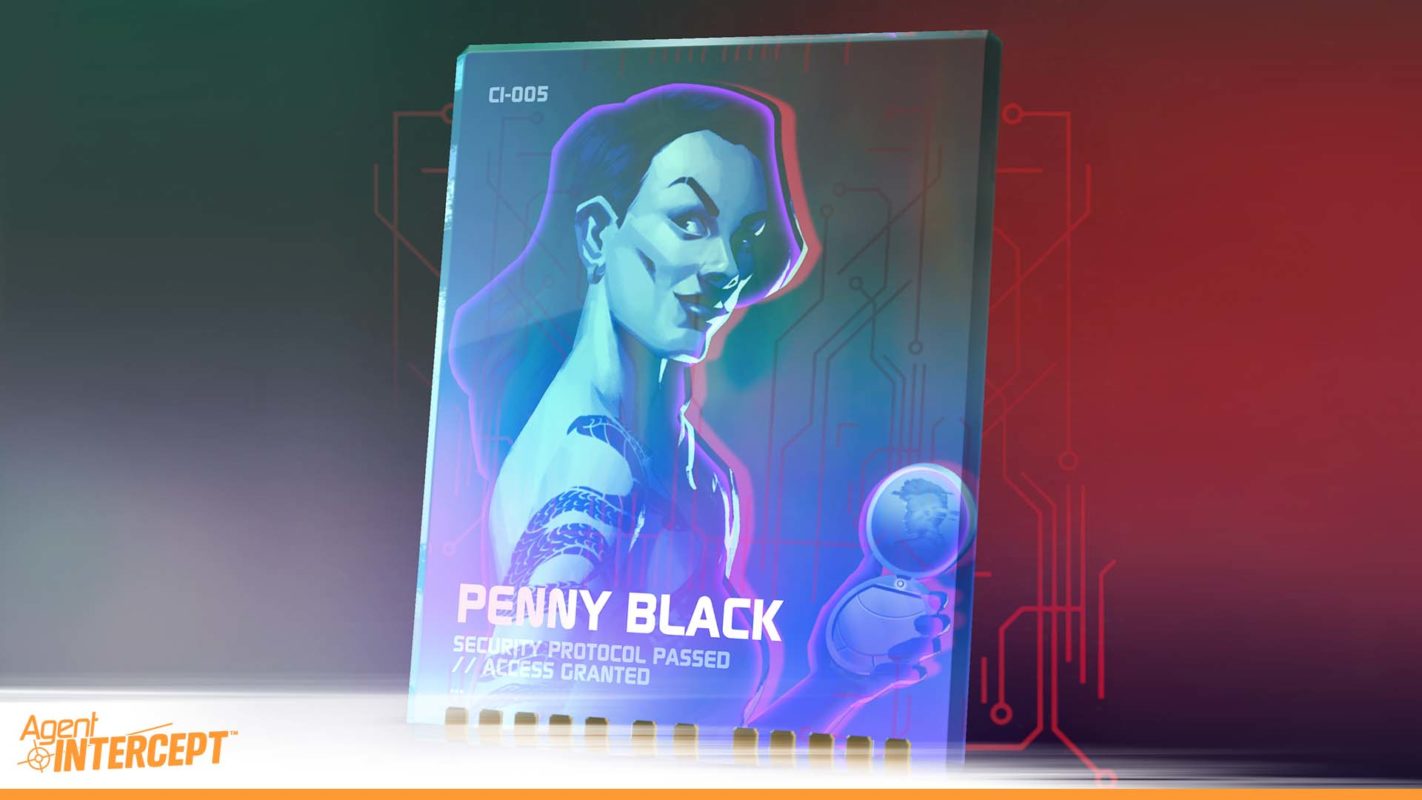 There may even be a few secrets to discover in the Data Card menu for Agents with a talent for spycraft. Uncover new intel and learn more about the details of your favorite characters, the backgrounds behind the coolest weapons and tech, and the history of the Agency and their battle against CLAW.
New Mission: Sky Hunter
Distressing Intel indicates CLAW operative Darius Squib will be conducting explosives tests in a remote desert locale. We can't let CLAW perfect any new munitions. Find and stop Squib then secure the site. But be careful, we're getting strange readings from the area. What is that in the sky?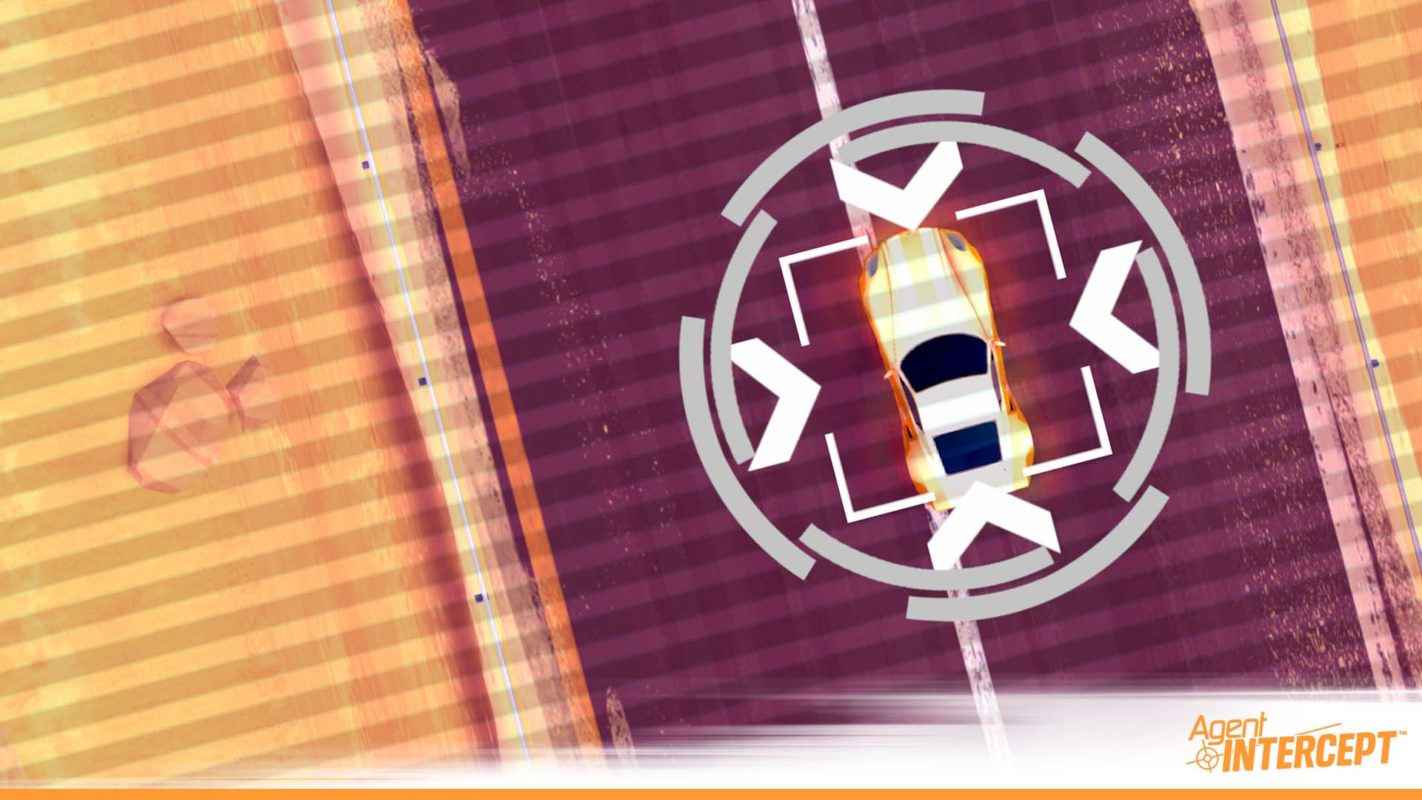 New Mission: Winner Takes All
An eccentric billionaire is holding a black market race in the desert. The prize? The Agency's classified Boost Fuel! We're sending the Sceptre in disguise. Compete so we can trace and capture the billionaire thief. CLAW is fighting for the fuel – so win that race, Agent!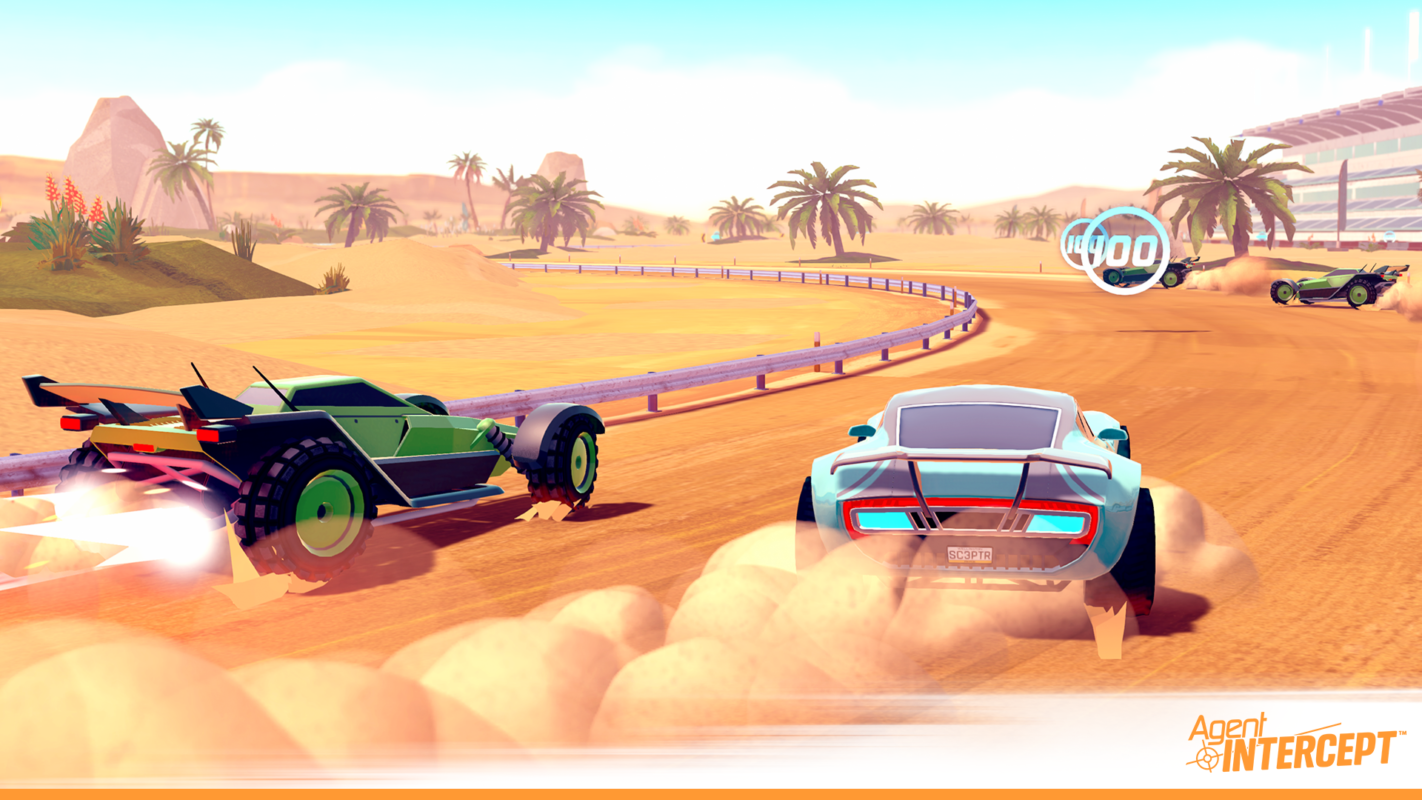 We hope you enjoy these new features and missions Agents! Each of these new features and missions introduces unique mechanics to the Agent Intercept experience. Keep those driving skills sharp, and best of luck!
Full Notes:
Added full cinematic introduction videos to introduce main characters, as well as an expanded ending to reward players who have completed the main campaign.
Introducing Torpere's Experiments.
Introducing Data Cards.
Two new Crisis Missions.
Sky Hunter.
Winner Takes All.
Various bug fixes.